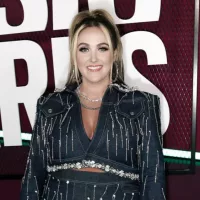 Priscilla Block surprised fans with the new single "Hey Jack," as well as dropping the official music video for the track.  Block co-wrote "Hey Jack" with Randy Montana, Jeremy Stover and Dave Cohen; she also revealed she's kicking off the "Hey Jack Tour" in February.
Block said in a statement about the song: "This release is something that we've worked really hard on. From writing the song, to filming the video, to having my red carpet looks mimic different scenes from the video. It's been such a creative time for me. This is the start of a new era and I couldn't be more excited about it!
Block added: "'Hey Jack' was such a fun song to write. I wrote it with Randy Montana, Jeremy Stover and Dave Cohen, and it was really cool writing from the perspective of you talking to a drink. I feel like a drink can be something that you lean on if you're going through a great time or a hard time, and they get sides of you that a lot of people don't. So, instead of calling an ex-boyfriend, you might call on some whiskey."
Block's headlining "Hey Jack Tour" will stop in Washington, Texas, Oregon, New York and other destinations, featuring special guest Ryan Larkins before wrapping-up in May in Raleigh, North Carolina.
For tickets to the 'Hey Jack Tour', head to Ticketmaster.
Take a look at the official video for Hey, Jack – here.
Editorial credit: Debby Wong / Shutterstock.com