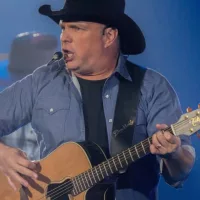 The first single off Garth Brooks' upcoming album Time Traveler teams up Brooks with another country music legend, Ronnie Dunn of Brooks & Dunn
Brooks and Dunn's duet, "Rodeo Man," was co-written by Dunn with Phil O'Donnell, and is streaming exclusively through Amazon. Brooks says of the collaboration: "It's buckin' AWESOME!  Ronnie Dunn is simply one of the greatest voices in all of country music."
Time Traveler will debut as part of the third and final volume of Brooks' The Limited Series. The seven-disc set includes the new album plus the rest of Brooks' music over the past decade: 2014's Man Against Machine, 2016's Gunslinger, 2019's three-disc Triple Live compilation, and 2020's Fun.
The Time Traveler box set will only be sold by Bass Pro Shops; online preorders are available now, and will ship in mid-November.
To stream 'Rodeo Man,' head – here.
Ronnie Dunn Fans Rip Garth Brooks To Pieces In Comments For Collaborative New Single "Rodeo Man"
Editorial credit: Sterling Munksgard / Shutterstock.com