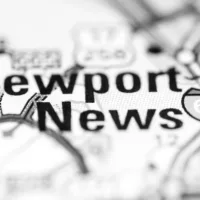 Deja Taylor, the mother of a 6-year-old student who shot his first-grade teacher in Virginia, was sentenced on Wednesday to 21 months in prison for using marijuana while owning a firearm.
Taylor son took her handgun to school and shot 26-year-old teacher, Abigail Zwerner, in January at Richneck Elementary School in Newport News, V.A.  The child fired a 9mm handgun while the teacher was sitting at the reading table in their first-grade classroom.
Taylor, 26, was convicted on federal charges of using drugs when the gun was purchased. Federal prosecutors in Virginia argued in court filings that Taylor's "chronic, persistent and … life-affecting abuse extends this case far beyond any occasional and/or recreational use."  Investigators later found nearly an ounce of marijuana in Taylor's bedroom and evidence of frequent drug use in her text messages and paraphernalia. Taylor's grandfather has had full custody of her son, now age 7, since the shooting, according to court documents.
Taylor agreed in June to a negotiated guilty plea. Taylor's attorneys had asked the judge for probation and home confinement, arguing that Taylor needs counseling for issues that include schizoaffective disorder, a condition that shares symptoms with schizophrenia and bipolar disorder. "Ms. Taylor is deeply saddened, extremely despondent, and completely remorseful for the unintended consequences and mistakes that led to this horrible shooting," her attorneys wrote. They also said she needs treatment for marijuana addiction.
Taylor still faces a separate sentencing in December on the state level for felony child neglect. Meanwhile, Abigail Zwerner is suing the school system for $40 million, alleging that administrators ignored multiple warnings the boy had a gun.
Editorial credit: SevenMaps / Shutterstock.com