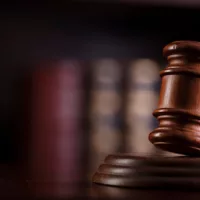 The mother of a 6-year-old boy who authorities say used her gun to shoot his first-grade teacher at a elementary school in Virginia pleaded guilty Tuesday to a state charge stemming from the shooting in January. The case drew national attettion to school safety and gun violence and led to the ouster of the school's superintendent and an assistant principal.
Deja Taylor, 26, was charged in April with felony child neglect and recklessly leaving a loaded firearm so as to endanger a child, a misdemeanor. Taylor could serve up to six months in state prison based on a recommendation by the Newport News Commonwealth's Attorney. A judge will sentence Taylor on Oct. 27. The separate misdemeanor charge was dropped in a plea agreement, allowing Taylor to avoid a potential six-year prison sentence. Taylor's attorney James Ellenson told reporters outside the courthouse: "She feels very responsible, feels very bad … It's just very emotional, the whole hearing. It's all just very upsetting to everybody."
Abigail Zwerner, the teacher in the shooting at Richneck Elementary School in Newport News, was shot with a 9 mm handgun in their classroom after recess on Jan. 6, police said in a search warrant for the investigation. Zwerner told investigators the boy pulled a gun out of his jacket pocket and pointed it at her. When she asked what he was doing, he fired one shot. Zwerner was hit in the left hand and upper torso. As a result, Zwerner has filed a $40 million lawsuit alleging that school administrators ignored multiple warnings from staff and students who believed the boy had a gun and posed an imminent threat on the day of the shooting, knowing the child "had a history of random violence."
According to the search warrant, Taylor told police that she normally stored the gun in her purse with a trigger lock in place or in a lock box, and on the morning of the shooting Taylor thought the gun was in her purse on top of her dresser in her bedroom. She said she kept the key for the trigger lock under her mattress. However in a federal case stemming from the shooting, investigators said they couldn't find a trigger lock or a lock box during searches of Taylor's home or her mother's home. Taylor also pleaded guilty in federal court in June to the use of marijuana while possessing a firearm. She is expected to be sentenced in October and could receive 18 months to 24 months in prison.
Editorial credit: Stock Studio 4477 / Shutterstock.com